Building In Sexy, Safe Design For Functional Senior Living
No clicking away now. We're talking about "Aging-In-Place," senior living with eyes wide open, and it's not so bad!
Today, new home upgrades for seniors actually look and function so well, your kids will want them in their new home, too. Here are just a few.
Levered door handles. Dexterity is one of the first problems people encounter as they age. No sense struggling with a smooth round knob when levers look so much cooler and come in all sorts of posh finishes.
For the shower or the kitchen
For outdoor water valves
For regular door handles… trendy levers function fabulously.
Wide doors and at least one easy-access portal to the outdoors. Really, is it worth tripping over your step as you're carrying in the groceries? It can happen to anyone. Why not take at least one entrance — pick the door you'd functionally enter and exit the most – and make the path straight and smooth. That means:
No steps up or down
No draft catcher you might trip on
No adjustment between two different floor materials, etc.
The key word is SMOOTH. Wouldn't you rather spare yourself that hip replacement as long as possible?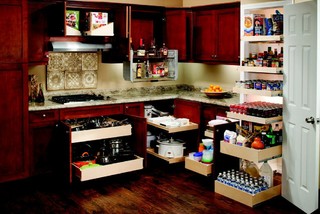 Admit you love pull out shelves, regardless of your age.
Toddlers like to crawl on them.
Young kids like to get their own cups and plates from them.
Seniors like to lift pots and pans from them without bending down.
Do yourself a favor when building your new house and splurge on pull-outs in every cabinet. Beats getting on hands and knees to find that lost Tupperware lid.
Towel racks double as grab bars in kitchens and bathrooms. Forget about those nasty industrial-looking grab bars you see in hotel showers. Think elegant, thing homey, think steampunk, if you will. Brass end caps; brushed nickel; brightly colored high-fired ceramic. Have fun with this idea! Think about how you can use them for other things, towel racks, etc.
Now consider how relieved you'd be if you needed to reach out and pull yourself toward the sink if you happened to need a wheelchair, or lean on it as you reach up to grab Penzey's Fox Point Seasoning to sprinkle on the fresh bass you caught with your grandson this morning? Nice, right?
Consider leaving space below your sinks for easy-access from a wheelchair. Do you really need that dark, hole of a cabinet anyway? What good is it? Sure, it hides stinky sponges, extra soap and buckets, and a set of hair curlers you never use; but you can keep that stuff in your pull-out drawers (see above). Imagine the fresh, airy look of a clean open space instead – which you can roll up to if needed. [Hot benefit: you'll know immediately if the pipe under your sink is leaking!]
See, the reality of aging sweetens when you're prepared with the best accoutrements of senior living.
That's right. Go ahead and think of them as "accoutrements" to fine living, and have your builder install them. Your neighbors will be so jealous.
Links: