Top Ten Biggest Surprises At The Austin Home and Garden Show
You'd expect floors, pools, maybe even the plentiful numbers of chiropractors at the 17th Annual Austin Home and Garden Show this weekend.
My top ten surprises/highlights were as follows:
First I'll clue you in on a little secret: Don't go on the final afternoon of a home and garden show. Many salespeople are hoarse from talking all weekend, and even if they want to be, some are not very chatty or informative.
You can buy a lot of items in the $25 – $100 range. Everything from kitchen gadgets, cleaning tools and supplies, pillows, food items, and leak detectors above (available at Energy Pro Depot), are for sale right at the show, including this amazing rubber broom. (Purchased by seemingly half the show's attendees, the yellow sticks were bobbing around the convention floor everywhere.)
The Viba Body Slimmer's rep assured me that even though it felt like I was standing still, being rapidly jiggled but not really exerting a lot of energy; I was indeed building and toning muscle, increasing circulation and bone density, relieving pain, and fighting cellulite. I loved it. I'm a new believer. When I get my money saved I will be replacing my exhausting workouts with a vibration machine.
I wasn't fixing to get all those wood floor estimates, but I scheduled three floor dealers to come out and measure. When in Rome…
Nolan Kilbe, the owner of Granite Recyclers has a brilliant company that makes beautiful stone accents for the home from piles of granite leftover from new home builders. Instead of going to a landfill, Nolan arranges for the scrap stones to be picked up and cut into tiles and chunks you can use elsewhere in your home, like backsplashes and fireplace surrounds. Such a great green idea!
Speaking of green building, I met Dan Logue, a builder from Built Green Custom Homes who showed me that the key to building green while saving money and getting everything you want included was to learn everything you need to know from their Builder's University, and become your own general contractor. Talk about intensive, free education! Just sign up for each class as you need it, buy a plot of land somewhere in the hill country, and you're on your way to a beautiful, less costly custom home.
Cedar Park Overhead Doors' wood garage doors are screwed onto metal frames. That's why they never warp and they always open like new. In fact, a lot of their traditional garage doors are made of cutting edge materials even though they look like they belong on a carriage house.
Boomer Block from Rock Star Design Studio was the only pool designer I talked to, who could draw up plans that looked worthy of framing and…build me a skateboard half pipe and a chicken coop as part of my landscape design. Yep, he's done that before; he even showed me drawings.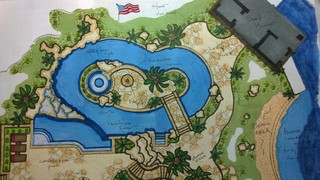 The guy at the Tidy Techs Professional Organizing booth didn't bat an eyelash when I told him "I have this friend who…" Discreet and therapeutic organizing is their specialty. "Hoarding…We all do it," says their pamphlet. (Luckily, digital hoarding hasn't been classified as a real condition…yet.)
A mustache on a bouncy playground spring made by artist Dakota R. Pratt out of thousands of bottle caps… for the game room/playroom that has everything.
Links:
1. Austin Home and Garden Show
2. Energy Pro Depot, the leak detector guys
4. VibaBody Slimmer Vibration Machine
7. Rock Star Design Studio on Houzz
8. Tidy Tech Organizing
9. Dakota R. Pratt's Mustache on a Spring